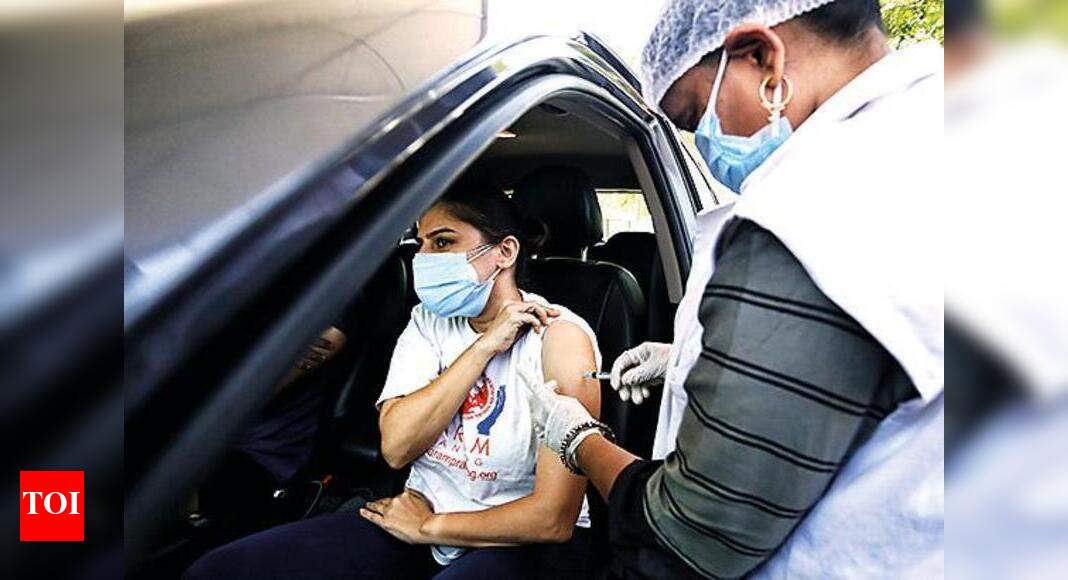 LUCKNOW
: To make Covid-19 immunisation a comfortable experience, the Uttar Pradesh health department has approved drive-in vaccination at open spaces like malls in all districts. Launched in
Noida
, the facility entails eligible persons getting their shots inside their cars and then driving away after a 30-minute pause.
"Chief medical officers have been instructed to explore the possibility of drive-in vaccinations. Proposals from big cities, including Lucknow,
Kanpur
, Agra, Meerut and Jhansi are pending," said director general, family welfare, Dr Rakesh Dubey.
He said, the decision has been left to district authorities to take the idea forward. "The facility comes with a rider of availability of ample space for car owners to wait for at least 30 minutes after receiving the jab. Space is crucial in implementation of the proposal and the decision has been left to the local administration," he said.
Dr Dubey said, if beneficiaries complain of side effects after vaccination, they can press the car horn as SOS. The government is also likely to start the workplace covid vaccination centres (CVC) in June, where camps will be held at offices and to enable employees and their families to get vaccinated. Four CVCs with a target of 50 persons per centre will be established in each district.
"Four workplace vaccination centres will include one at the district court, two in government offices and one for media personnel along with employees of information department," said, additional chief secretary, health and family welfare, Amit Mohan Prasad.
In another decision, the government decided to hold separate booths to facilitate vaccination of parents of children. This is being done in anticipation of a third wave, which can impact minors. Each district has been told to set up two such centres — guardians vaccination booth.
The government has already decided to intensify vaccination in June with a special focus on the 18-44 age-group. Districts have been told to vaccinate at least 1,000 persons per day, while a weekly target of 10lakh has been fixed.
Separate arrangements are being made in villages too. Officials claimed UP is the quickest to administer over 15lakh doses of vaccines and fastest to vaccinate those above the age of 18. According to data from CoWin portal, Uttar Pradesh has administered 1.7 crore doses of vaccine and 33.93 lakh citizens are fully immunised.