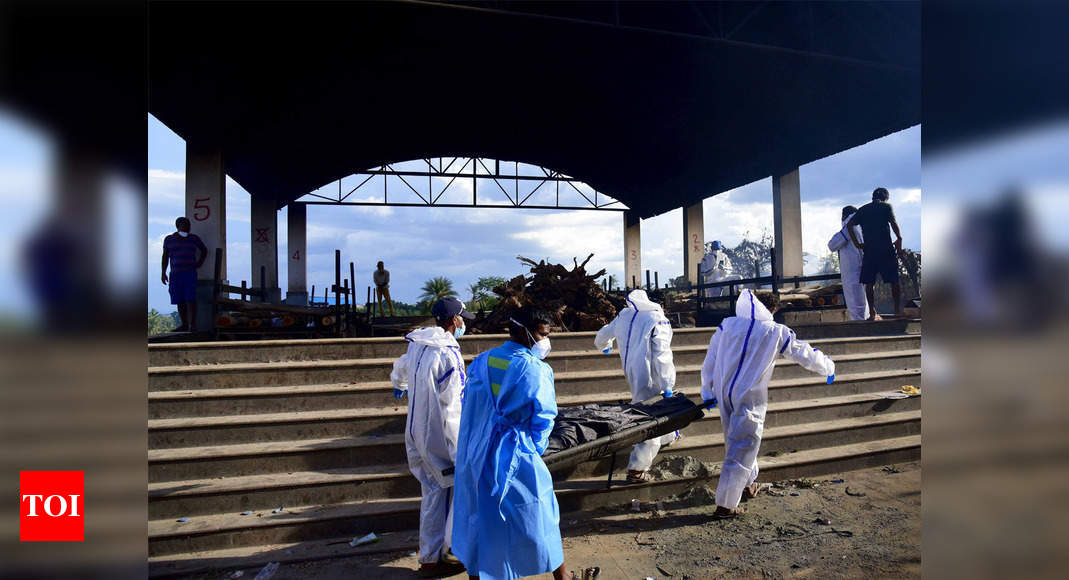 BELAGAVI: While the number of daily
fresh
cases are falling across the
state
, fatalities rates continue to be an area of concern, especially in Belagavi where the spate over the past few days has left the district administration in a tizzy.
Over the past six days, the district has recorded 97 deaths. A majority of these are from rural
areas
, underscoring the spread of the virus deep into villages. Belagavi district is one of the largest in the state, comprising 14 taluks and a population over 50 lakhs, but the lack of health infrastructure is only adding to woes of the people.
MG Hiremath, district deputy commissioner, has ordered a strict weekend-lockdown for the second straight time with the aim to reduce the caseload but preventing deaths is a much bigger challenge.
For example, although Belagavi taluk registered the highest number of cases (328) on Tuesday, only two died due to infection. Yet, a staggering 22 deaths were reported from far-flung villages in other taluks. On Monday too, only four deaths were reported in the city and outskirts, but 13 were reported from rural areas.
Lakkanna S, director of Hopcoms who has been helping patients get beds in hospitals in Arabhavi in Mudalagi taluk, claimed the health department is downplaying the numbers. He said in Rajapur gram panchayat, which has a population of about 12,000-15,000, about 80 people died of Covid-19 in a span of 8-10 days. However, the health department's data recorded a mere 15 deaths.
Ninganagouda from Sunnal in Ramdurg taluk said the toll touched 15 in his village, but health department figures show just one. "It's understandable if some deaths go unreported due to constraints in rural areas, but 14?" he asked.
The laxity of panchayat development authorities in spreading awareness among the villagers is also contributing to the mess.
A taluk health official in Bailhongal said residents are unwilling to get admitted to Covid Care Centres due to lack of awareness. Meanwhile, Hiremath said 134 teams comprising lab technicians, taluk and district level officials besides others have been formed and they will visit villages to carry out tests. "Every team has been provided with 100 rapid antigen kits to test symptomatic people, primary contacts, people with comorbidities and SARI and ILI cases," he said.