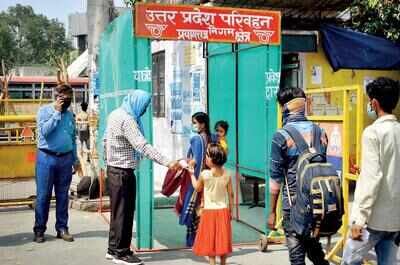 prevention is better than cure: Passengers undergo thermal screening while entering Civil Lines bus depot in P…Read More
Prayagraj: With the state government announcing further relaxations in the lockdown guidelines and state buses resuming operations, more shops opened and city markets witnessed an increased rush on Monday.
The district administration on Sunday had issued a notification about the rules which shops and markets would have to follow once they open for business Monday onwards.
It is mandatory for both shopkeepers and customers to wear masks and practise social distancing.
However on Monday, buyers in most markets except Civil Lines were seen ignoring social distancing.
The risk was graver in markets like Katra and Loknath where shops are located quite close to each other. In Katra, the shops encroaching the road make buyers more susceptible to Covid-19.
"I know that we are not supposed to turn away customers who are not wearing masks, but we cannot keep on doing it at the cost of our livelihood. We have already suffered a lot because of the lockdown," said a shopkeeper in Katra, while requesting anonymity.
UP State Regional Transport Corporation (UPSRTC) buses resume operations and started plying from Civil Lines bus depot.
As per the directives of the government, the buses have to be sanitised before passengers are allowed inside. The conductors were seen conduct thermal screening for every passenger and making them sanitise their hands before letting them enter the bus.
Each bus had 25-30 passengers on board, against their regular capacity of 79. In seats which normally accommodate three passengers, only two were allowed to sit. Whereas, in seat meant for two, just one passenger was allowed. "We have started operations while observing all precautions. We have to not only serve the public, but also take care of our staff," said UPSRTC regional manager (Prayagraj) TK Bisen.