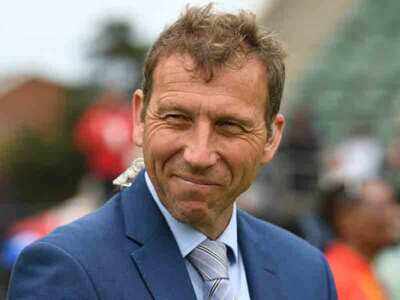 Michael Atherton. (Photo by Philip Brown/Popperfoto/Popperfoto via Getty Images)
CHENNAI: Former England skipper Michael Atherton achieved a fair share of success as an opener. During a chat with Sony Ten Pit Stop on Friday, Atherton – who 115 Tests and 54 ODIs for England — felt the most important criteria for an opener to excel was to have a strong mind.
The 52-year-old gave an example of former England captain and opener Alastair Cook to make his case. "Successful openers have the stubbornness and strong mind and Cook had them both. Openers must be level-headed and ready to grind it out and the best example is Cook," Atherton pointed out.
Atherton was clear that Rohit Sharma had it in him to excel as a Test opener. "I watch Rohit and think — well, you can't not be successful at Test level. He just looks such a good player that you'd think that success will come," said Atherton.
Interestingly, Atherton recalled a chat with Rahul Dravid a few years in which the latter had pinpointed a few differences that separated the U-19 players of India and England.
"I was asking him why he felt that India's players looked more natural and less forced than England's at that level. He thought it was to do with the fact that Indian cricketers all-year around play. Because of the weather in England, a lot of English players spend six months indoors on bowling machines and it can look a bit forced after that… a bit over-coached," Atherton said.